Request a Quote

Design/Build Services
Plans and specifications provided
Site location and selection provided
All phases of construction services provided

General Construction
Your plans or ours
Your site or ours
All phases of construction services provided

Construction Management
Your plans or ours
Your site or ours
You participate in the construction at whatever skill level you feel comfortable
We provide Job Supervision and manage all other phases of construction
Testimonials
Terry D. Kimmel
"Barbara and I wish to thank you for the comfort and beauty of our "new" home; the home the Kimmel family has lived in for over 25 years. It is not the same home we moved into those many years ago and we have you to thank for the vast improvement in looks and function.
Dennis, I am not sure you realize it, but you and your crew have done three separate remodeling phases on our house in the last six years. Included were two remodeling jobs on the inside and one on the outside of our house. The kitchen and family area was the first phase. Next came the outside upgrading. And finally the complete makeover of the rest of the house with new interior doors and trim. It certainly has a new look and feel thanks to you and your crew.
Please feel free to put us on your "extremely satisfied" customer list and do not hesitate to use us as a future reference for the quality of your work. Thanks so very much again for what has been accomplished."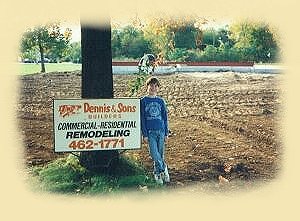 © 2016 - Site Powered by DataMine Internet Marketing Solutions